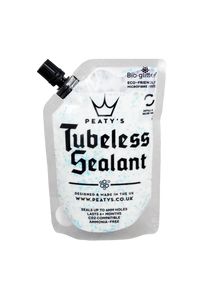 Clear Choice Spin Products
Peaty's Tubeless Sealant 120ml / 4oz Trail Pouch
Regular price
$19.99
$0.00
Unit price
per
Protect your tires from ride-stopping punctures with Peaty's Tubeless Sealant. The unique trail pouch has been designed to get you started with enough sealant to do two 27.5" wheels and to be the perfect emergency sealant refill when out on the trails or at the races.

Chuck it into your trail bag, glove box, or toolbox and use the 60ml filling guide printed onto the rear of the pouch to assist with topping up. The spout has also been designed to assist with injecting through a de-cored valve, or directly into the tire - whichever you prefer!
Don't throw it away though - simply refill your old pouch from our 1ltr workshop bottle and you're good to go again!
The non-hazardous, non-toxic and biodegradable formula uses 'nanoplatelets' which perform like platelets in blood by assisting with the repair of larger holes and tears in the tire. The 'nanoplatelets' are completely biodegradable and made from starch extracted from sustainably managed eucalyptus trees.
---