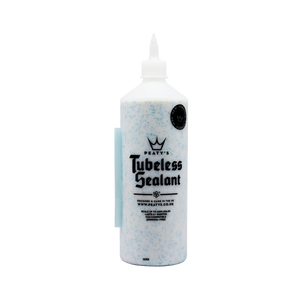 Clear Choice Spin Products
Peaty's Tubeless Sealant 1L / 34oz Workshop Bottle
Regular price
$49.99
$0.00
Unit price
per
Don't let a flat ruin your ride.
Protect your tires from ride-stopping punctures with Peaty's Tubeless Sealant.
Our carefully considered 1ltr workshop bottle has a filling guide printed on the side so you don't have to use messy measuring cups like with other sealants. Simply cut the spout to your preferred diameter and use it to fill the tire directly or inject through the de-cored valve using a flexible hose.
Use this bottle to refill your used Peaty's Tubeless Sealant Trail Pouch.
Our non-hazardous, non-toxic and biodegradable formula uses 'nanoplatelets' which perform like platelets in blood by assisting with the repair of larger holes and tears in the internal tire. The 'nanoplatelets' are completely biodegradable and made from starch extracted from sustainably managed Eucalyptus trees
---